Possible 300-Unit 'TownLake' Project Up for Bid
A possible 300-unit, mixed-use development could come to downtown Clearwater as the TownLake project near ProspectLakePark was sent out to developers to bid on this week.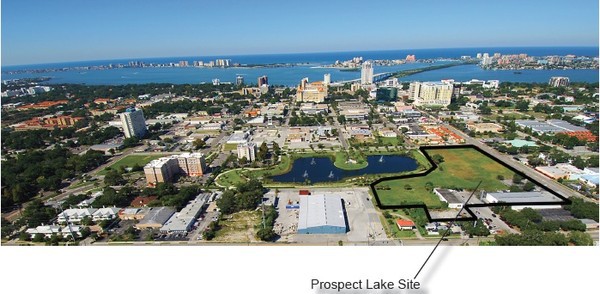 By Jared Leone Email the author February 6, 2013
A single penthouse unit at Waters Edge is available. Station Square, a few blocks away on Cleveland Street, is filling up too. One of the fastest growing demands for housing in Clearwater is for young professionals in urban environments, and those are the types of projects getting funding, according to city officials. So, plans to build on the area near ProspectLakePark, like the once scuttled MediterraneanVillage in the Park that was only partially developed, are back on the table.
And this time there is more land available for developers. City leaders are pushing to begin digging for the TownLake project, a possible 300-unit, four story mixed-use development planned for downtown Clearwater, by June 2014. "We're back because we think it is timely to come out," Rod Irwin, assistant city manager, said during the city's Community Redevelopment Agency meeting Monday. Sign up for the Clearwater Patch email newsletter to read more about development and other issues that matter in your community.
The City Council, sitting as the Community Redevelopment Agency, unanimously approved sending the project out for developers to bid on and expect to select a project by June. The developer is expected to be able to build it within 12 months, according to the proposal documents. When it is built, expect to see these features: The more than six-acre property fronts Cleveland Street and Prospect and Ewing avenues, circling the north side of ProspectLakePark. When constructed, the major building massing is expected to be along Cleveland Street.
Code allows for up to 30 dwelling units or 40 hotel units for each acre. More could be available from a special density pool. The building should have a pedestrian orientation with no vehicle entrances on Cleveland Street. The development should make use of the site's proximity to ProspectLakePark but not wall it off. The three- to four-story development could be up to 75 feet tall, according to city documents. Developers could request to go higher, although the process could add up to seven months to the project timeline. The first floor would be devoted for commercial use, while residential units would be on the upper floors. There is more land available for development after recent city purchases. Already, the city has invested an estimated $6.5 million purchasing property and making the more than 6.5 acre site ready for development including dealing with environmental issues.
The city first started buying and assembling the property in the 1990s when much of the site was a car dealership. The city paid for remediation because of environmental concerns in 2004. The Florida Department of Environmental Protection said the site is clear of contaminants and ready for development in 2010, according to city documents. Officials purchased a few other properties expanding the area available to be developed to more than 6.5 acres recently. The city bought 1.3 acres, the St. Vincent de Paul Society Thrift Store site, in 2010. The city purchased 1005 Park St., a .6 acre commercial property, in Dec. 2012. And just before approving the TownLake project to go out to bid, leaders purchased 1021 Park St., for $120,000. That purchase could allow for vacating a portion of Park Street, that is, as long as environmental assessments, demolition and closing costs don't push the price past $165,000.
Proposal Selection Timeline: February – Request for proposal March – Proposal deadline April – Project evaluations and rankings May – Presentations June – Selection approval by Community Redevelopment Agency   http://clearwater.patch.com/articles/possible-300-unit-town-lake-project-up-for-bid