Foreclosure

: the wrong thing to do is nothing
STOP AND AVOID FORECLOSURE! YOU HAVE OPTIONS.
As foreclosure rates hit record levels and property values have decreased in many areas, more sellers are turning to short sales as a way to avoid foreclosure. 
In fact, of all available options, foreclosure is the worst.
For those who are giving up, tired of trying a loan modification that never arrived, ready to walk-away and let their home to go to foreclosure.
DO – NOT – JUST – WALK – AWAY
…are you under the impression that after your foreclosure, that is the "end of the story"? Did you think that the only repercussion is a black mark on your credit history?
If it was only that simple.
Foreclosure will put your family in financial and legal jeopardy for YEARS.
Some Lenders are even studying a way to foreclose on the NEW home you've purchased since foreclosure. Even though your lender never disclosed it to you, Foreclosure might set you up for attacks from your lender for years into the future.
That's right… they'll wait until a few years down the road when you're doing better and then…
Please do yourself a favor and prepare, protect yourself, see if you qualify for a short sale  now while there're still possible and we will fight for your full forgiveness as part of the approval.
As many of you already know our office specialize in short-sales, we have been doing this for over 6 years now, with hundreds of successfully closed short sales transactions. Yes, they are a lot of extra work, but the payoff is certainly more than just a commission on these deals when we succeed.  Everyone wins every time we keep another one from ending up in foreclosure.
So, what is a short sale and how does it work? In a short sale, we arranges with the seller's mortgage lender to accept a price that's less than the amount they owe on the property. As part of this arrangement, the lender may even agree to forgive the rest of the loan. As a result, the seller is able to get out from under a mortgage without destroying their credit rating, the lender is saved the time and expense of foreclosing on the property, and the buyer gets a below-market price on a home.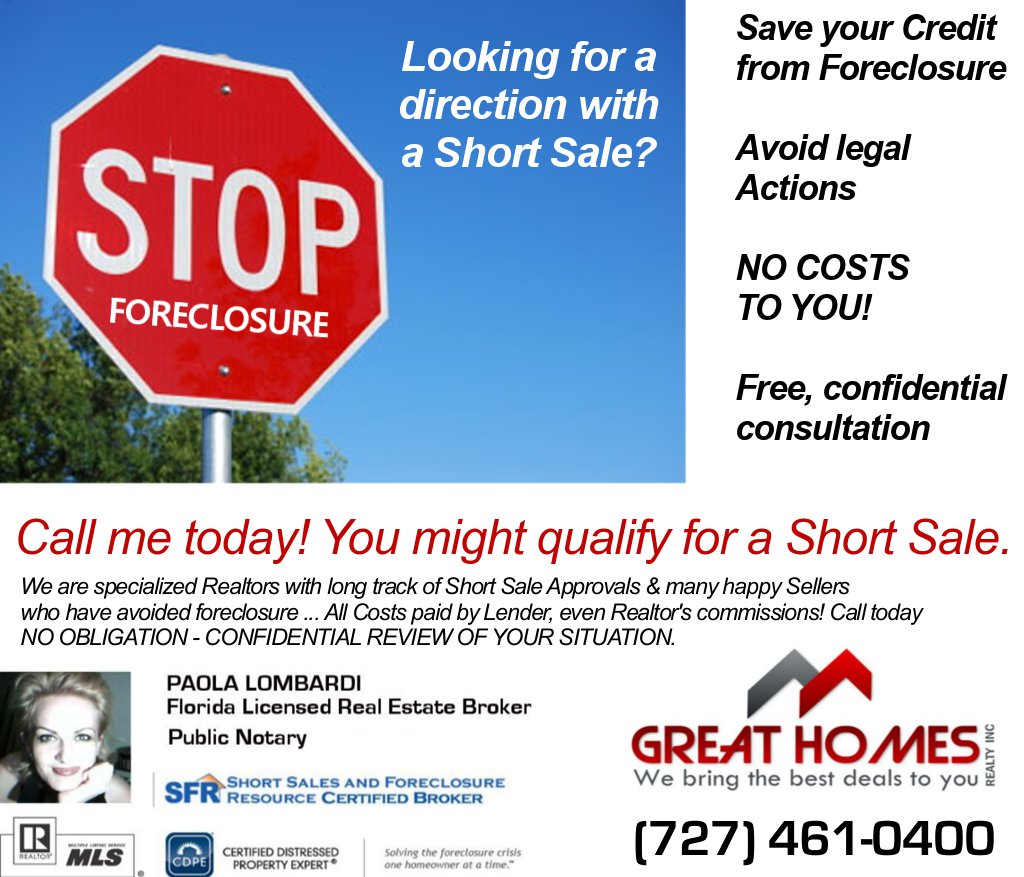 In a Short Sale you will pay absolutely nothing in agent commissions or closing costs, and you will possibly owe nothing to your lender. You will not have the stain of a foreclosure or a bankruptcy on your credit. We have helped 100′s of homeowners do exactly this. We work with professional mediators who negotiate the deal with the seller's lenders and the whole transaction is at NO COST to sellers.  The good news is that banks don't want to take your home back. There's no money in it for them. Banks lose money when they foreclose on homes, which means it's in their self-interest to work with borrowers who are in trouble. That is why we have been so successful for over six years negotiating short-sales. So, if you know anyone who is facing foreclosure or cannot keep up their mortgage payment any longer, please pass them this e-mail  paola@clearwaterpostulate.com . They will thank you forever you did. We have almost all our listings under contract – we are looking for more properties to market for sale as short sale transactions.  In selling a home with a short sale, time is of the essence. The sooner one starts the process, the more options one has. The worst thing one can do is procrastinate. All it takes is a phone call. Each situation is unique, so it is best to contact us for a FREE one-on-one consultation in order to understand all the options!
Our team is made up of licensed Realtors® that specialize in avoiding foreclosure.  We will NOT buy your home, but will assist you in selling your home quickly.  At no cost to you.
Call today 727-461-0400.
Call Great Homes Realty – pre-foreclosure & bank owned specialists


Important Notice: Great Homes Realty, Inc, is not associated with the government, and our service is not approved by the government or your lender. Even if you accept this offer and use our service, your lender may not agree to change your loan. If you stop paying your mortgage, you could lose your home and damage your credit rating.