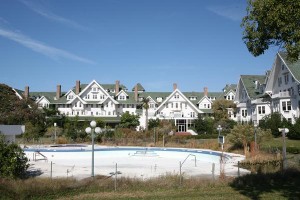 By Margaret Cashill, StaffWriter-TampaBay Business Journal
The Belleair Town Commission has voted in favor of a zoning option that would allow for multifamily development at the site of the Belleview Biltmore hotel.
In a 4-1 vote, the commission approved "RM-10" zoning Tuesday night,  the Tampa Bay Times reported.
The site currently is zoned for only hotels or single-family residences, the Times reported. RM-10 zoning would allow for a multifamily project with a density of 10 units per acre. The idea came out of public meetings last year.
St. Pete developer Mike Cheezem, CEO of JMC Communities, is under contract to buy the site. He intends to build condos and townhouses in place of the waning hotel, while preserving a portion of the historic structure as a function space.
Town officials said the new zoning option, as well as a mixed-use zoning option also on the agenda, wouldn't prevent a preservationist from attempting to buy the hotel, the Times reported.