The state is sprinting ahead of the nation economically, and the forecast for the future, with some reservations, is sunny.
By HELEN HUNTLEY Published July 11, 2004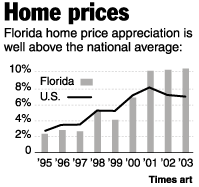 Sometimes the stars line up just right – and the sun, too.
With the U.S. economy chugging along and finally generating jobs, Florida is at the head of the pack. The state's recovery has been among the strongest in the nation and shows few signs of waning.
"Florida's economy has been outperforming the nation by a wide margin," said Lynn Reaser, chief economist for Banc America Capital Management.
Senior economist Mark Vitner at Wachovia estimates the state's economic output this year will be about 7 percent above last year's levels.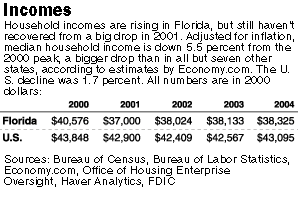 A sampling of vital indicators:
Florida is creating more new jobs than any other state: 171,800 in the year ended in May, including 22,000 in the Tampa Bay area. Although smaller than the pace of job growth before the 2001 recession, a 2.4 percent year-over-year gain for Florida is more than double the national rate.
The state's unemployment rate, which was about the same as the nation's, began falling in 2002 when the national rate was still going up. Now they are both headed down, but the gap between the two has widened to a full percentage point, with Florida at 4.5 percent.
State tourism not only has recovered from the drop in air travel that followed the 2001 terrorist attacks, it is setting records. Florida is expected to attract more than 100-million overnight visitors this year, up 15 percent compared with two years ago. Hotel occupancy rates and room rates are up.
The Florida housing market has been on fire thanks to rock-bottom mortgage rates and strong demand. For three years running, Florida homes have been appreciating at a 10 percent annual clip, well above the national average.
Assets of Florida banks are up 12 percent over last year, thanks to strong demand from real estate developers and other borrowers.
Why has Florida done so well?
Economists credit the state's abundance of sunshine and service jobs, although only the former is considered an unqualified plus.
The weather and brighter job prospects are big attractions for people moving to Florida, and the more people you have, the more they spend. Even at the relatively modest growth rate of 2 percent, Florida is adding 300,000 to 400,000 people a year.
"The economy benefits from ongoing population gains, which feed into retailing and health care and support the housing industry," economist Reaser said.
Florida's job mix also has given it an edge in this recovery. The state is heavily dependent on services, from financial and business services to health care and tourism. The relative lack of manufacturing jobs, normally considered a detriment, turned out to be a plus when the economy went into recession in 2001. Manufacturing jobs were quick to be eliminated and have been slow to come back, while jobs in tourism and other service industries have multiplied.
However, economists say Florida should continue efforts to diversify its job base.
"What we're really in the business of down here is manufacturing a day of fun," said David Scott, a University of Central Florida finance professor who tracks the state's economy. "The problem with that is that the jobs associated with it don't take much training, therefore they don't have a high wage level."
Many of the jobs being generated during the recovery don't pay as well as those that were lost, but the issue is not as simple as some politicians make it. A national analysis by Wachovia's Vitner found higher-paying industries were losing jobs at a faster rate than lower-paying industries, but since job growth turned positive in September, most of the new jobs have been higher-paying jobs.
In Florida, jobs are growing in both low-paying sectors such as tourism and higher-paying sectors such as business and professional services and financial activities. Wages per employee grew at a faster rate in Florida than nationally for most of the past three years.
But, jobless rates alone don't tell the whole story.
"We're starting to see employment gains now, but coming from where we were, private sector payrolls (nationally) are still well below where they were before the recession," said Scott Brown, economist for Raymond James & Associates. "And we should have added another 3-million to 4-million jobs on top of that just to accommodate population growth. It's a glass half full or half empty, depending on how you look at it."
Reaser notes that one reason unemployment rates have fallen is that many people have dropped out of the work force.
"As the economy improves, more people will start to look for opportunities again," she said.
Overall, Floridians' household incomes have been growing faster than the rate of inflation for several years, but are still below their 2000 peak, when adjusted for inflation, according to an analysis by Economy.com.
"The Florida economy today is strong and creating lots of jobs, but in terms of real median incomes, it's not quite back yet and probably won't be for a couple of years," said Economy.com co-founder Mark Zandi.
Salaries aren't the only factor holding back income. Low interest rates and the stock market downturn have been hard on the investment income of Florida's retirees.
Economists are optimistic about growth prospects for the country for the rest of this year, although expectations are lower for next year as the impact of higher interest rates begins to kick in.
In the Wall Street Journal's midyear survey of 55 economists, the average prediction was for an annual growth rate of 4.4 percent for the current quarter and 4.2 percent next quarter, declining to 3.7 percent for the first half of next year.
Some recent economic news set off tremors on Wall Street, which is sensitive to any potential threat to the recovery. The U.S. economy added about 112,000 jobs in June, fewer than half of the number expected, and discount retailers Wal-Mart and Target reported disappointing sales. Economists say those are more likely signs of a pause rather than a reversal in economic conditions.
"Consumer spending has slowed a little bit more than had been expected," Vitner said. "The tax cuts gave consumers a huge boost in the early part of the year, but after that initial burst of income, there was nothing else to offset the jump in energy prices that we saw this spring."
Although gas prices have come down slightly, they are still high.
"It depends not just on the magnitude of the increase, but also on the duration," Brown said. "Crude oil prices are back up toward $40 a barrel, which suggests we're not going to see much relief in gasoline prices in the near term."
So far, at least, higher gas prices have not stopped tourists from coming to Florida. However, Vitner said, they may be spending a little less on food and entertainment to compensate for higher gas costs. He said availability of gas is more important to tourism than price.
Rising interest rates also have the potential to dampen economic growth both in Florida and nationally. In fact, that's why the Federal Reserve began the process of gradually raising short-term interest rates. It does not want growth to get so strong that inflation picks up.
As the prime rate rises, it becomes more expensive for businesses to borrow money for expansion and for consumers to buy things on credit. Long-term rates also have been going up this year, but they are tied more to investors' expectations about the future than to Fed action.
Higher short-term rates may be less of a dampener for the Florida economy because they create more spending power for retirees with income investments such as bank CDs, and Treasury bills and notes. Even small increases in short-term rates become important to investors who have been earning only 1 to 3 percent on their money.
Economists will be paying close attention to mortgage rates and their impact on the housing market.
"Residential housing has already peaked," said Orlando economist Henry Fishkind of Fishkind & Associates. "What we're going to see is some topping out of commercial construction with rates driving upward. But it won't do enough to shut off housing or slow population growth dramatically."
Higher interest rates make houses less affordable, which would tend to slow the rate of price appreciation.
"This isn't a death knell for the economy; it's a bellwether to adjust," professor Scott said. "Interest rates have historically been much higher than this and businesses and households have adjusted, as have governments."
As the aftermath of Sept. 11 proved, Florida's economy also is more vulnerable than most to terrorist attacks or other disruptions to tourism.
In addition, Florida faces major challenges trying to pay for education, transportation, courts and other services to meet the needs of a growing population.
Fishkind said he is worried about how the state will pay for the high-speed rail network, smaller class sizes and prekindergarten classes mandated by constitutional amendments passed by the state's voters.
"There's a huge mismatch between the requirements and our ability to pay for them," he said. "All businesspeople should be greatly concerned about these things."
Source: http://www.sptimes.com/2004/07/11/Business/It_s_Florida_s_time_t.shtml#rants