A veteran hotel manager recalls how Clearwater Beach has grown from a sandy island peppered with mom-and-pop hotels to a beach-front vacation destination, and looks at what's ahead.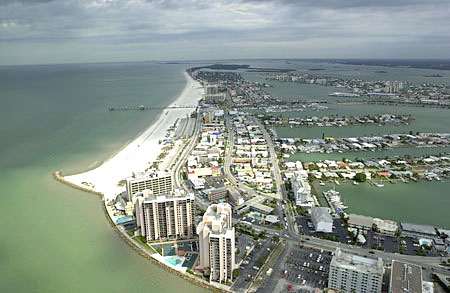 By MARK ALBRIGHT Published December 22, 2003
CLEARWATER – Wallace Lee remembers the days when the big Clearwater hotels closed for the summer, guests stayed all winter and Saturday night dinner was a black tie affair.
Now 71 years old, Lee is retiring after 31 years as general manager of the Clearwater Beach Hotel. Before that, he managed the landmark Fort Harrison Hotel in downtown Clearwater in the mid 1960s, before the Church of Scientology bought it in 1974.
Few executives in the tourism industry have such a long memory of the changes that transformed the Clearwater Beach hotel business over the past 40 years.
The Clearwater Beach Hotel is a 257-room, family-owned property that has been a beach fixture since 1917. It started out as a beach cottage for a Bartow family that owned a sawmill. That grew into a boarding house and in the 1920s, a seasonal resort for well-to-do guests who stayed the entire winter. In the late 1970s, the termite-ridden wooden buildings were rebuilt and converted into a conventional three-star hotel. Its owners, who are hoteliers from Des Moines, Iowa, control beach frontage the length of two football fields.
Lee reflected on the waves of change he's seen at Clearwater Beach in a recent interview with the St. Petersburg Times:
Q. What was the Clearwater hotel industry like when you worked at the Fort Harrison in the mid 1960s? Everything was entirely different then. Clearwater Beach was largely empty land with scattered eight- to 12-unit mom-and-pop motels. There was the Sea Shell. But all the hotels of any size were on the mainland downtown and were only open seasonally. The Fort Harrison had a ballroom that could seat 1,100 for a full meal that was one of the biggest places for meetings and conventions in this part of Florida. Then Walt Disney World arrived and everything changed.
Q. How so? The Sheraton Sand Key and several other big hotels were built in the rush to develop the south end of Clearwater Beach. It all happened very quickly. I remember the hotel that's now the Adam's Mark closed only a week after it opened. The mainland hotel business dried up very quickly because the new type of tourist drawn to this part of Florida by Disney preferred staying in new hotels on the beach.
Q. The Clearwater Beach Hotel was open only from December through April 1 back then. What was it like? We had essentially the same people down for the entire winter every year for 20 to 30 years. They all knew each other. We had a social director and organized activities nightly, such as a bridge club. Guests paid $40 a day, which included three meals a day. It was much more formal. Saturday night dinner was black tie. There were assigned seats in the dining room where we had a string quartet every night. You were served by the same waiter for every meal every day, so he pretty much knew what everyone wanted.
Q. How about the workplace? Most of the staff lived in a 60-room dormitory on the property. They worked seven days a week, but were off two months a year. During the summer they moved back north to staff the big old resorts in Maine, New Hampshire and the Grand Hotel on Mackinaw Island. It was a stimulating environment. I remember we had a financial columnist from Boston Globe here all winter and a judge who held court with his friends in the bar every night. But over time that entire generation died off.
Q. The resort got pretty run-down in the mid 1970s before the owners chose to rebuild as a conventional hotel in a traditional Florida style rather than copy the high-rise hotels that popped up all over the beach. How did that play out? We have no long-term guests anymore. The typical stay is three or four days. In the 1980s, we became much more reliant on Europeans drawn to Florida to see Disney. At the peak in the 1990s, they were up to 40 percent of our business. Now it's about 15 to 20 percent, and they are mainly from the U.K. Ireland has become a good market for us. But Germany has disappeared.
Q. How's business now? Well, 2002 was a very bad year for this beach. I think it was the worst since the Arab oil embargo of the early 1970s. We were down 18 percent in occupancy rate in 2002, and we've recovered about half of that for the full year 2003. We'll finish the year about 8 percent below where we were in 2000. Other hotels can make some of that up with golf courses or spas. We don't have those cash cows. If we can get the Europeans back to 2000 levels, we'd be very profitable. I don't see that happening for another year.
Q. It's estimated as many as 900 motel and hotel units on Clearwater Beach are being converted to condos. Most of those are small, older properties that cannot command higher room rates to pay their mortgage, so owners are cashing out. The city is trying to redevelop the hotel strip south of the traffic circle on Clearwater Beach. What will the Clearwater Beach of the future look like? Sand Key is built out with high-rise condos. The handwriting is on the wall. They are moving north through Clearwater Beach. I don't think you'll ever see another big hotel or any more retail built north of the roundabout. Everything is going condo. The retail we do have has had a rough time. Nobody is trying to increase the traffic capacity of the roads here. Mandalay Avenue remains a two-lane street because they cannot afford to widen it. Meanwhile new condo construction will close one of the two other north-south streets on this end of Clearwater Beach. I know of 10 to 12 condo projects on the drawing boards just within a couple of blocks of us. I think a smart hotelier would add dining options. Maybe a lot these expensive condos will end in rental pools for vacationers. But all these new condo residents will want to eat somewhere within walking distance.
- Mark Albright can be reached at albright@sptimes.com or 727 893-8252.
Wallace Lee Youth: Grew up on a small farm in Ralph, Ala.
Education: Three years of business school at University of Alabama, then saw opportunity in the hotel business at his uncle's two hotels in South Carolina. Started as a front-desk clerk at the John C. Calhoun Hotel in Anderson, S.C., but his uncle sold the hotels and moved to Florida within a year.
Career: Jack Tarr Hotels Co. management trainee in 1958 starting at Francis Marion Hotel in Charleston, S.C.; manager of the Grove Park Inn in Asheville, N.C., in 1962; manager of Fort Harrison Hotel in Clearwater, starting in 1963; regional manager of Ramada Inns, starting in 1969; and manager of the Clearwater Beach Hotel, starting in 1972.
Other interests: Reading, golf and family, including wife Ida and their three children, now all grown. All of them live in Dunedin.
Quote: "I got my first promotion to manager when the man holding the job died in December. The hotel was closed in the winter and I was transferred to the Fort Harrison a few months later. So I never registered a guest at my first hotel."
Source: http://www.sptimes.com/2003/12/22/Business/Waves_of_change.shtml