… too cute (and true) not to share! I dedcate this to all my friends who work in real estate
Be Thankful for Short Sales
by MELISSA ZAVALA on NOVEMBER 27, 2013
Real estate agents, here are 4 reasons why you should also be thankful for short sales:
Short sales can push you to the limits and teach you to be the best that you can be. Never before had I been forced to think about real estate in the way that I do now. Never before did I have to strategize so much in order to reap success. Never before was I required to study settlement statements and title reports with so much detail. Never before did my paperwork need to be so thoroughly prepared, reviewed, and complete. Now that the market is changing, short sale agents are at the top of the game and understand the scope of the real estate transaction more thoroughly and completely then those that didn't accept the challenges that were faced selling real estate during the recession.
The recession teaches you to be a listing machine. With so many people having trouble making ends meet, there were no shortage of borrowers who needed to participate in a short sale. This, of course, means that your sign can be everywhere in town. And, that provides you with lots of exposure. It is this added exposure that can fuel your real estate career for many years to come.
It's very rewarding to help someone else out of a jam in an honest and ethical manner. That fact alone should pretty much provide any agent with life long referrals, just as long as you update your database and contact your sphere of influence and past short sale clients regularly.
Challenges are motivating. In fact, the more difficult the challenge, the more motivated many people become. The short sale transaction has certainly challenged me to be the best that I can be. When you successfully close a short sale, you realize exactly how amazing it is that you have accomplished such a goal.
…and a little joke – for Agents only! Hahahaha!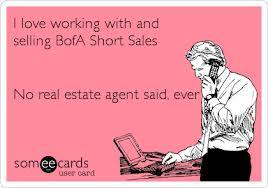 NOT SURE IF SHORT SALE CAN BE YOUR SOLUTION?
CALL ME TODAY FOR A FREE CONSULTATION! 727-461-0400