How to remain calm despite what's going to happen…
If these highly expensive programs designed to stop foreclosures did not help, where did the money go?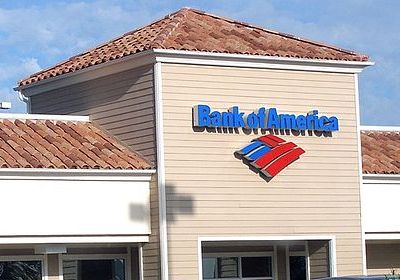 Well finally someone is talking… publicly saying what we kind of knew all along… lenders were just mudding the waters to give the impression something was being done.
For those who tried loan modifications unsuccessfully and got foreclosed: you should know about this… and then you will understand why for years we have been trying to get short sales done as a better solution to this financial mess. At least most of those homeowners who chose to do a Short Sale got out of this situation with full forgiveness of the remaining debt and can now go back to live their life … I still have to see someone who got a good loan modification and saved their home.
Here could be why. Yes, I know, sounds incredible…
From NBC news: "Former employees of Bank of America say they were told to lie to customers about whether they could modify their loans to more affordable terms. They also paid cash bonuses to bank staffers to pushing homeowners into foreclosure.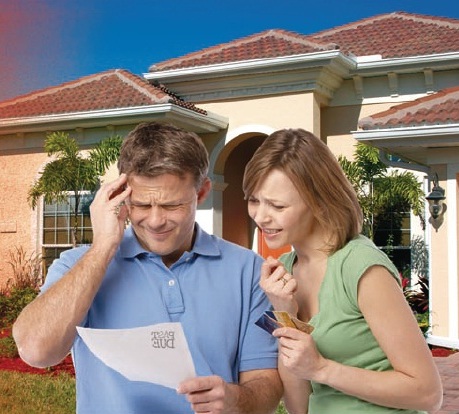 Bank of America routinely denied qualified borrowers a chance to modify their loans to more affordable terms and paid cash bonuses to bank staffers for pushing homeowners into foreclosure, according to affidavits filed last week in a Massachusetts lawsuit. 
"We were told to lie to customers," said Simone Gordon, who worked in the bank's loss mitigation department until February 2012. "Site leaders regularly told us that the more we delayed the HAMP [loan] modification process, the more fees Bank of America would collect."
"Based on what I observed, Bank of America was trying to prevent as many homeowners as possible from obtaining permanent HAMP loan modifications while leading the public and the government to believe that it was making efforts to comply with HAMP," said Theresa Terrelonge, a Bank of America collector until June 2010.
Read the full article here: http://www.nbcnews.com/business/bank-america-former-employees-we-were-told-lie-6C10351458
And this is not all.
Lenders are actively manipulating the market values.
The real estate market is not done being low, but there is still a lot of shadow inventory and very heavy tentative to control the market especially by lenders offering foreclosed homes for sale at over the market value, with no-appraisal-required-financing, to get by with overpricing them. Pretty smart, aren't they? It doesn't work very well, but the idea sounds both well-intended and rational, so a lot of people fall for it.
Truth is they are creating the false perception that the home prices are set to continue to increase. Why false? False because it is not supported by a better economy. . . We don't have good new jobs that help people. Ordinary people, worker and the middle class at large, are still squeezed out. I see everyone barely making it. Most people still cannot afford much of anything.
So don't go crazy and buy at any price. It is you, the buyer, who determines the prices. Negotiate, refuse to pay overprice, don't get into numerous highest and best bids. It is a fake, lender-created market frenzy!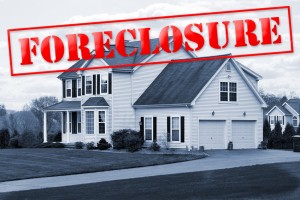 And for those who are giving up, tired of trying a loan modification that never arrived, ready to walk-away and let your home to go to foreclosure.
DON'T – JUST – WALK – AWAY
…are you under the impression that after your foreclosure, that is the "end of the story"? Did you think that the only repercussion is a black mark on your credit history?
If it was only that simple.
Foreclosure will put your family in financial and legal jeopardy for YEARS.
Some Lenders are even studying a way to foreclose on the NEW home you've purchased since foreclosure. Even though your lender never disclosed it to you, Foreclosure might set you up for attacks from your lender for years into the future.
That's right… they'll wait until a few years down the road when you're doing better and then…, please do yourself a favor and prepare, protect , see if you qualify for a short sale  now while there're still possible.
Call me today to see if you qualify for a short sale. It will cost you nothing. All closing costs are paid by lenders, even realtor's commissions. In some cases we are even able to get you money at closing to help you relocate. We will fight for your full forgiveness!!!
Well, that's all for today. Call me at 727-461-0400 for FREE confidential meeting to review your situation.
I have to go now. I need a good espresso. I am Italian. I drink espresso to stay calm before I call the Banks to negotiate your short sale! Till the next one …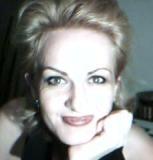 Paola Lombardi – Super Broker of Great Homes Realty
Main Office 727-461-0400
Office Fax 727-216-3469
info@ClearwaterPostulate.com
Short Sale & Pre-Foreclosure Certified Specialist 
Visit us at  www.facebook.com/GreatHomesRealty


Copyright (c) 2002-2013. All rights reserved. Reproduction of this article in full or in part is prohibited without the express consent of the author.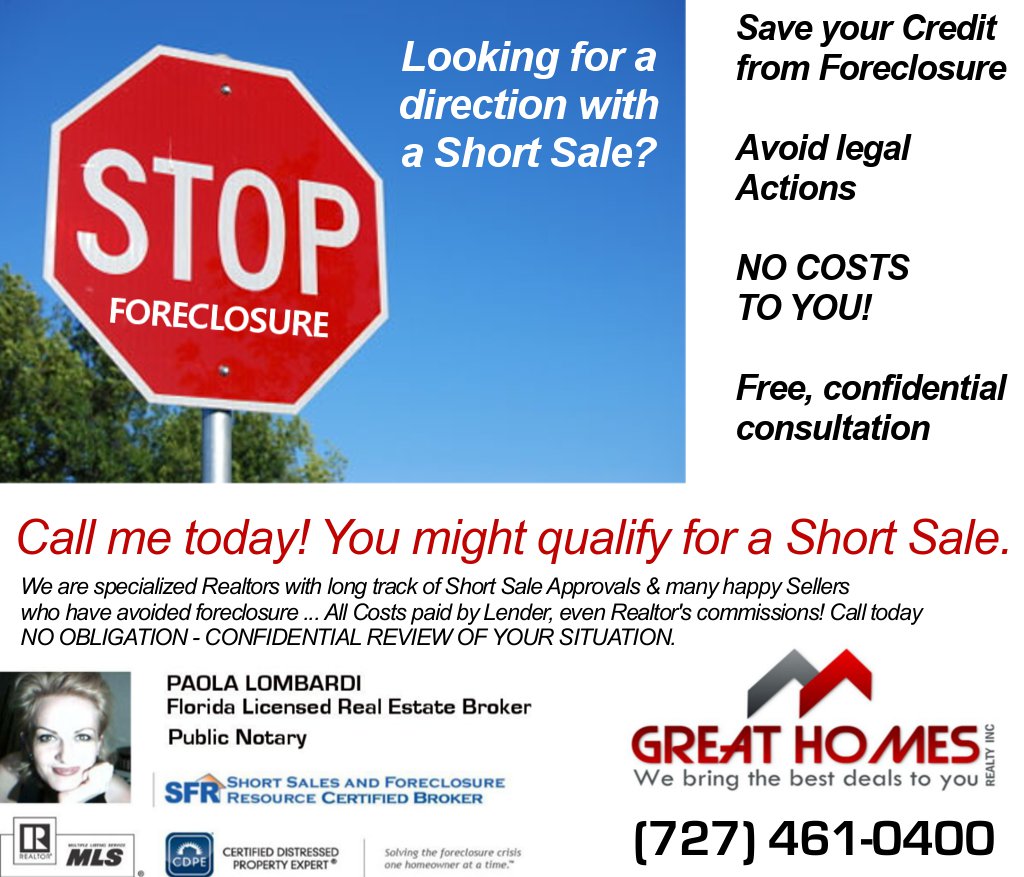 Tell Us Your Story
The more faces we can put to the current economic situation the better. Help us get the word out and put pressure on the powers that be to make some positive changes by telling us your story.
E-mail HERE and tell us your story.