Grand Plans for South ClearwaterBeach Lot Come Back to Council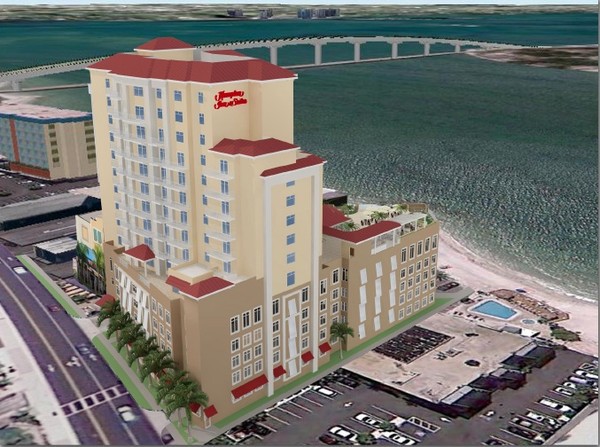 Slightly scaled back plans for a Hampton Inn on south ClearwaterBeach are expected to go before the City Council June 18. By Jared Leone
Grand plans for developing a sliver of south ClearwaterBeach are back. The controversial plan for a 15-story Key West-style hotel on a 248-foot-wide lot near ClearwaterPass was scrapped by the City Council in February, citing "creative code interpretation" as some of the reason for opposition.
Planners for Clearwater Grande Development needed leaders' approval for a lot adjustment to create a 116-room hotel, to make renovations to the existing Quality Inn, and for use of 76 hotel rooms from the Beach by Design density reserve pool, a special incentive offered to developers. This time, developers are not asking for a property lot modification and instead offer a scaled-back plan to bring a 14-story, 90-room version that is about 16 feet shorter than the previously proposed 150-foot-tall building.
The latest plans recently were approved by the Community Development Board and are expected to go before the City Council at its June 19 meeting. Although the request is less, the plans still need city leaders to sign off on the use of 171 rooms from the hotel density pool. There are 947 total rooms available in the density pool, which was established with 1,385 rooms in 2008 as part of the Beach by Design charter. The rooms are an incentive to create denser development on certain parts of ClearwaterBeach. Plans call for renovating the existing 91 rooms at the Quality Inn, creating special suites and reducing the total number of rooms there to 81. Those 10 rooms would then be added to the Hampton Inn project as well as another 80 rooms from the density pool to create the 90-room hotel. Previously, some leaders were uncomfortable with the project because it would have used 60 of the 207 requested units from the density pool so the Quality Inn would meet code. Because of the lot adjustment and changes in code, the allowable amount of rooms at the Quality Inn would be 31.
This time, without the lot adjustment, 71 units are allowed on the property. The Quality Inn would share 206 off-street parking spaces with the Hampton Inn. Another 199 spaces would be part of the five story parking garage. The building design also employs a visual trick to make the five-floor garage appear as four. The two buildings would be connected with a teal green canopy roof. The blue roof at the IHOP would stay. Some beach residents expressed opposition to the latest plans.
"This particular developer has already pushed the envelope severely," Anne Garris said. "And I think he's being a bit too creative." However, developers' plans are within the rules set by the code. "It's not this project that's setting the precedent. It's Beach by Design," said Katie Cole, representing the developer Steve Page. "This project follows those guidelines." Some members of the Community Development Board were not thrilled with the plans but agreed it met code requirements. "This is what Beach by Design wanted," member Norma Carlough said. "Then if this isn't what they wanted then there are some changes that need to be made that can't by this board."
Article by www.Clearwater.Patch.com