A city board approves the $30-million residential-retail project.
By JENNIFER FARRELL Published January 21, 2004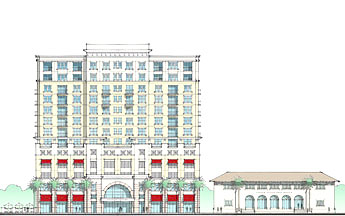 CLEARWATER – A city board on Tuesday approved plans for a 14-story condominium, restaurant and retail tower planned downtown next to the city's historic post office.
Pegged by city officials as a catalyst for downtown redevelopment, the $30-million Station Square proposal includes 100 public parking spaces on Cleveland Street.
The project, designed to complement the post office's Mediterranean revival architecture, would remake a parking lot next to Station Square Park and include a restaurant and retail space on the ground floor, topped by up to 146 condominium units with one and two bedrooms.
Developers hope to begin construction July 1 and finish in 12 to 14 months.
Ray Cassano, a downtown property owner and health food distributor prominent in Scientology circles, is heading a group of local investors backing the project.
Designed by Beck Development LLC, a Dallas builder, the complex marks the first high-rise, mixed-use redevelopment project downtown in 15 years.
On Tuesday, the city's Community Development Board unanimously approved the plans, which include a reduction in parking requirements and an extra 85 units granted from the city's downtown incentive pool for public amenities.
According to plans on file with the city, the project includes outside seating for a 9,904-square-foot restaurant.
City commissioners, sitting as the Community Redevelopment Agency, sought requests from developers for the project. Tuesday's approval is contingent on a development deal with the CRA.
As part of the deal, Clearwater Custom Floors, the two-story building at 628 Cleveland St. owned by Cassano and his wife, Kim Bright Cassano, will be demolished.
Source: http://www.sptimes.com/2004/01/21/Northpinellas/Downtown_tower_okayed.shtml