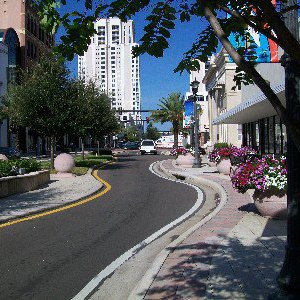 By Mark Schantz – Gazette correspondent 
Published: July 10, 2014
CLEARWATER — If you were strolling along Cleveland Street and saw a piano outside a shop or restaurant would you stop and tickle the ivories?
Nine groups and organizers of three city-sponsored celebrations pitched their events before the Downtown Development Board last Wednesday in hopes to secure some funding to help promote their events next year and spark tourism in the downtown Cleveland Street District, which stretches from Clearwater Harbor in the west to Frederica Avenue in the east.
A city report indicated that the total sum of requests for funding is $108,200, nearly 50 percent more than what the city authorized for the current fiscal year.
The development board will discuss sponsorship funding at their August before making a final decision, according to board administrator Anne Fogarty-France.
One of the newest fund raising events, dubbed "Pianos In Pinellas" and sponsored by the Clearwater Arts Alliance, might strike a chord with visitors, who may be inspired "to play anything from chop-sticks to Beethoven's Fifth," according to Colin Bissett, president of the arts alliance.
One piano would be placed in almost every establishment on Cleveland Street and to do that Bissett asked board to play along and fund the musical concept to the tune of $2,500. "It will be a county-wide extravaganza – pianos in public places," Bissett said. A wholesaler has already agreed to donate 10 pianos towards the event, proposed during the 2015 holiday season from Thanksgiving to New Year's Day, and each piano will be auctioned to raise money for the arts alliance.
Similar events have gained popularity, one which originated in England and is known as "Play Me I'm Yours." This event has been on tour internationally since 2008 and has reached over six million people worldwide. More than 1,200 pianos have been installed in 43 cities across the globe from New York to London.
Development board members were intrigued by the idea.
Bledar "Tony" Starova, board member and owner of Tony's Pizza and Restorante, said "I like it. It's something new. It's something we should do. It's very interesting and if it picks up it will put us in the spotlight."
Eric Blankenship, Chief Marketing Officer at Ruth Eckerd Hall, told the board that scheduled concerts for the Blast Friday event will be reduced from about nine to six concerts performed on the 500 block of Cleveland Street next year, but is still seeking $25,000. "We can only absorb so much loss," he said, noting that some of the losses can be attributed to cancelations due to inclement weather. Development board member Dennis Bosi voiced disappointment that many of the acts are repeat performances and there has been little diversity in the line-up as initially suggested. "Only two new acts played on Cleveland Street this year," Bosi said, adding that the shows attract the same people, who bring their lawn chairs and leave right after the show and do not frequent downtown establishments. Blankenship answered, "I would ask why they don't come back, as opposed to why they aren't coming. Attendance at the shows is stable or going up. We diversify as much as possible."
Starova agreed with the concert promoter noting "we have to give people a reason to come back." Some businesses are closed even though the concert attracts as many as 4,000 people. He suggested businesses offer incentives to encourage people to remain downtown after concerts.
"They'll come back if they have a reason," he said.
Development board members also had suggested Pat Fernandez, president of the downtown Clearwater Farmers Market, which will open for its 20th season in October, consider moving the market to StationSquarePark at 612 Cleveland Street, which could support as many as 30 vendors.
Fernandez told the development board that "most vendors don't want to leave the 500 block. Some are Scientologists; some are not. But they want to be close to the church because church members have a short lunch hour." The Church of Scientology's Flag Service Organization is located at 503 Cleveland St, she explained.
Board members suggested she ask new vendors if they were willing to use the park so the market can stretch to the 600 block.
Organizations requesting funding for the upcoming fiscal year included:
• Six Annual Achieva Credit Union Box Car Rally — $1,000, same request as last year;
• Bright House Clearwater Super Boat National Championship Festival — $15,000, an increase of $5,000;
• Clearwater Celebrates America (Fourth of July event) — $2,500, a first time request;
• Clearwater Fun 'n Sun Celebration Festival — $10,000, a first time request;
• Clearwater Sea Blues Festival — $10,000, an increase of $7,500;
• Clearwater's Blast Friday — $25,000, same request as last year;
• Clearwater Jazz Holiday — $7,500, a first time request;
• The Farmer's Market — $8,000, an increase of $3,000;
• Pianos on Main Street — $2,500, a first time request;
• Race and Walk for ASL & Deaf Awareness — $5,500, a first time request;
• Star Spectacular Events (8 events) — $21,200, an increase of $11,200;
• Jolly Trolley's Coastal Loop — $9,220, same request as last year.