Dolphin Tale 2 gets the green light, will feature Clearwater Marine Aquarium's dolphin, Hope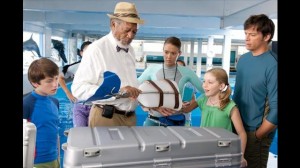 Clearwater, Florida — PinellasCounty's most famous movie star is getting a sequel.
The Hollywood Reporter announced Wednesday director Charles Martin Smith is back and negotiations reportedly are underway to reunite the entire original cast including Ashley Judd, Morgan Freeman, and Harry Connick Jr.
The film will begin production this fall and Warner Brothers has set a Sept. 19, 2014, release date.
The Hollywood Reporter reports Dolphin Tale 2 will tell another true story inspired by the life of Winter the dolphin.
This movie will involve a new baby dolphin named Hope who was rescued by the Clearwater Marine Aquarium in 2010.
Hope will play herself just as Winter did in the first film.
http://www.wtsp.com/news/local/article/321367/8/Dolphin-Tale-sequel-gets-the-green-light